Book Highlight — Digital Minimalism by Cal Newport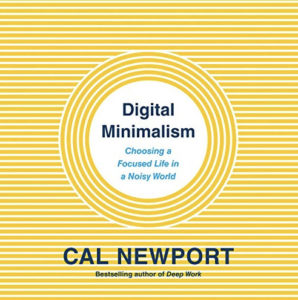 How often does your phone ping, vibrate and light up to notify you of something? Once a minute? More often?
Over the past two decades, the digital world has rapidly encroached on our everyday lives in the real one.
Whereas at one time your email and other digital utilities were strictly limited to a desktop computer at work or in your home office, today, messages, news, offers and more will ping your phone on a minute-by-minute basis.
While this can be more convenient than more outdated alternatives, this "always online" approach to modern life can be stressful and draining. That's why so many people have begun taking steps to limit the hold their phones, computers, and digital lives can have on their attention.
In his book, Digital Minimalism: Choosing a Focused Life in a Noisy World, Cal Newport explores this initiative. He provides actionable tips and in-depth strategies for reducing the role digital considerations have in your day-to-day life.
Backed by real-life examples and case studies from all walks of life, Newport shows how easy it can be to simplify your life. Furthermore, he also shows what you stand to gain, from less stress to a great attention span.
Discover how to turn down the noise technology makes in Digital Minimalism by Cal Newport.