VoIP is the perfect fit for nearly every business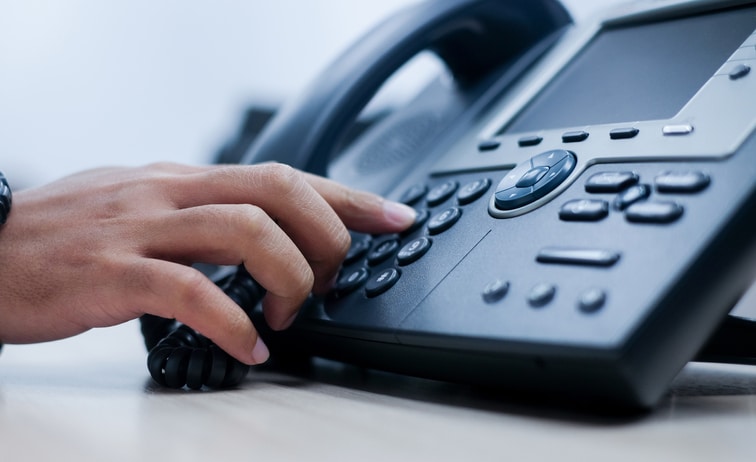 In today's day and age, technology is a huge game-changer in our personal and professional lives – allowing us to stay connected wherever we go. Cloud telephony, in particular, is an advancement that is quickly replacing traditional landline telephone systems. Why? Because traditional landline telephone systems simply don't meet the requirements of modern businesses. They're expensive, and they don't offer anywhere near the degree of flexibility that modern businesses rely on.
What is cloud telephony (VoIP)?
Cloud telephony, also referred to as voice-over-internet-protocol or VoIP, is a technology that lets you make and receive calls via the internet as opposed to relying on traditional copper wiring. Your phone systems are hosted in the cloud, which means your employees can access their work line from any device or location, as long as they have an internet connection. In the simplest terms, one phone number follows them everywhere they need to go.
You spend far less because your calls are carried out over the internet, which makes it significantly cheaper, especially for organizations that are handling a massive amount of calls daily. This is particularly true if you're currently paying for long-distance to make calls outside of your region.
When Does Cloud Telephony Make Sense?
For most businesses, cloud telephony is more beneficial than traditional landline telephone systems. We've found that in situations where the following applies, cloud telephony is a major advantage:
You have an outdated, legacy phone system that's difficult or frustrating to support
You have or plan to have remote workers that are operating out of their homes
You have already started moving some aspects of your infrastructure to the cloud
You have more than one office location and need to connect them
You have or plan to experience significant growth in the near future
Cloud telephony not only offers significant cost savings, but also allows you to gain more flexibility in terms of adding users, enabling remote work, and integrating with other cloud-based systems.
Here are a few of the most notable benefits of switching from traditional landline telephone systems to cloud telephony:
More flexible for remote workers as they can access their work line via their tablet, phone, computer, or smartphone using a softphone application. There's no need to be stuck to your desk.
Greater options for communication as you can use your system to make video calls, conference calls, and much more – allowing remote workers to stay connected to the office as needed.
Quicker installation and easier maintenance as there is minimal complex equipment or cabling involved. We can often set you up remotely because it's so efficient to configure.
More enterprise-grade features that are available as part of your cloud telephony subscription. You gain access to:

Voicemail to email
Do not disturb
Call hold
Call monitoring
Find-me-follow-me
Video conferencing
Music on hold
And much more
Get Started With Cloud Telephony
Schedule a no-obligation consultation and learn how our partners use Microsoft technologies and TLC to transform their business, increase efficiencies, improve workplace culture, and win new business opportunities … all with the help of TLC and Microsoft solutions.