Employee Spotlight: Joe Santee, Senior Hardware Technician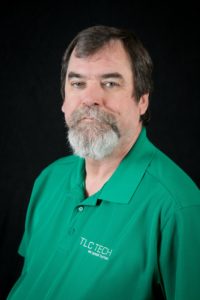 Growth is an essential part of both our personal and business lives. As a leading managed IT services provider, we are always looking for new ways to improve our service delivery. And at the heart of our efforts to offer exceptional client experience are our valued staff. By combining hard work and talent, our dedicated team at TLC Tech continues to deliver tailor-made IT solutions to businesses across Sacramento, CA. However, no one exemplifies our core value of growth more than Joseph Santee. We wrote this employee spotlight in honor of Joe's remarkable contributions to our company.
Who Is Joe Santee?
A hardworking, reliable, self-driven team player, there's no one else we would rather have as our Senior Hardware Technician. Despite already having several stellar qualifications, Joe continues to develop and expand his knowledge and skills in the tech field. He has recently become a Microsoft Certified Solutions Associate: Windows Charter Member and is currently pursuing a diploma in Information Security Systems. Joe's vast knowledge and experience make him an integral part of our TLC Tech team.
What Is Joe's Role at TLC Tech?
As our Senior Hardware Technician, Joe's primary role involves leadership, communication, and decision-making, all of which are skills he has developed through experience. However, he also plays several crucial technical roles. Joe is responsible for:
Managing and servicing desktops and servers within the workplace.
Initiating and leading efforts to standardize database troubleshooting and data recovery procedures.
Setting up and configuring PCs, laptops, and printers and training users on the new equipment.
Conducting OS updates, installations, virus and spyware removal, etc.
Who Is Joe Outside the Office?
A self-professed Disney addict, Joe also spends a lot of his free time catching up on old sci-fi shows. According to him, Disneyland really is the happiest place on earth. However, he is also quite happy when playing World of Tanks!
We hope you've enjoyed getting to know Joe as much as we love having him as part of our team!
Keep an eye out for more employee spotlights. Meanwhile, reach out to us if you need IT support from a leading IT support company…
Book a meeting with our team of technology experts.
Find out which IT services are right for you.
Enjoy a partnership focused on helping you grow and succeed.