Book Highlight —  The 5 A.M. Club by Robin Sharma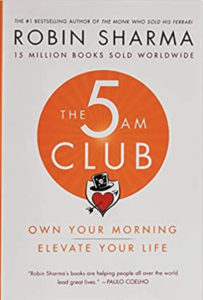 How successful your day depends on how you start it.
Your morning routine is a key part of your mental state, energy, health, and productivity throughout the day. Do you have a strategy for starting your day on the right foot?
More than two decades ago, leadership coach Robin Sharma began sharing the concept of The 5 A.M. club—a  morning routine designed to facilitate an engaging and productive day for the leaders who follow it. By taking advantage of the early hours when the rest of the world is asleep, you can get in the right headspace, exercise, and do more to put you in the best place to tackle the day.
Find out more in The 5 A.M. Club by Robin Sharma