Book Highlight: The One Thing by Gary Keller & Jay Papasan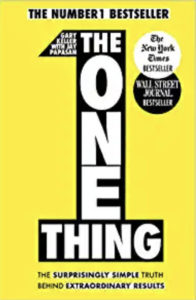 Is success about how you do things? Or what you do?
It's an important question for professionals of any field to consider. Improving yourself and attaining success is an ongoing effort that needs attention, nurturement, and reflection.
In their book, The One Thing, authors Gary Keller and Jay Papasan suggest that it's not so much about how you do things, as it is about what you're doing. Success comes down to redefining the goal itself, rather than the means by which that goal is met.
In other words, if you can modify your perception of success to include those things you are good at and find rewarding, you will instantly become more successful. The power of perspective can vastly change the way you value your daily actions and determine how successful you are.
Change your mindset and start becoming more successful by checking out The One Thing by Gary Keller & Jay Papasan.