We're Proud to Announce That We've Received The Compliancy Group's "HIPAA Seal of Compliance" After Undergoing a Thorough Audit of Our Processes and Procedures. What Does This Mean for Our Healthcare Clients?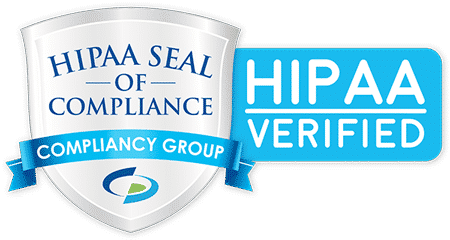 TLC Tech has worked with healthcare providers for many years – helping them leverage the right technologies to enhance patient care while remaining secure against cybercrime and non-compliance fines. Now, we're proud to announce that we've achieved "HIPAA-verified" status. That's right… Our team is a Compliancy Group HIPAA Verified IT company. This is one of the most trusted third-party verification's available on the market, and because we work with healthcare providers, covered entities, and business associates, it's important to us to give those organizations peace of mind knowing our processes, procedures, and technologies will keep them in compliance.
What Does Our "HIPAA-Verified" Status Mean?
Essentially, we underwent a thorough audit of our processes and procedures to ensure we're fully HIPAA compliant. This means we're able to pass audits that assess our:
Physical safeguards
Administrative safeguards
Technical safeguards
In short, we are well aware of how to achieve HIPAA compliance because we've done so ourselves. We know the most common pitfalls, issues, and mistakes far too many covered entities and business associates experience – leading to non-compliance fines, and in some cases, lawsuits. For instance, we can help you avoid:
Human errors such as leaving a file out in the open or leaving a desktop computer in view of a patient that often result in unauthorized access to electronic protected health information.
Lack of insurance as we work with you to find the right options for insurance to cover any sort of investigation – a commonly overlooked requirement under the HIPAA privacy rule.
Failure to send privacy notices as you're required to send updates to your patients every 3 years in regards to how you're storing and accessing their electronic protected health information.
Lack of appropriate safeguards including technical, administrative, and physical that are required to keep electronic protected health information safe against any form of unauthorized access or theft.
And lastly, we can help you avoid the biggest mistake far too many covered entities and business associates experience… Failing to work with a HIPAA-verified IT company to provide the services you need to remain in compliance:
Ongoing risk assessments
Security training
Policies and procedures
Incident response assistance
And much more
TLC Tech Takes Privacy and the Law Seriously. That's How We Managed to Become a HIPAA-Verified IT Company in the First Place.
TLC Tech takes privacy and the law seriously. We know you do too. Our HIPAA-verified team of IT experts can help you manage your information technology – allowing you to work productively, and ultimately, see more patients in less time – without sacrificing security or compliance.
Get Started with TLC Tech – Your Trusted Healthcare IT Experts. Call (916) 441-3838 to Work with Our Team of HIPAA-Verified Professionals Now.
Learn how Managed IT Services can help your business.
Discover the best IT company suited for your business.