Meet Jed Hart, A TLC Sacramento IT Expert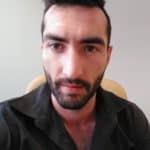 Find out more about one of our Sacramento IT experts—Jed Hart!
We are excited to put the spotlight on yet another one of our TLC team members: Jed Hart!
Jed has worked at TLC for just three months as a Network Operations Center Technician. In his role, he helps keep our clients' networks optimized, secure, and functional.
Over his time with us so far, he has come to enjoy his work very much. Jed appreciates the opportunity to work remotely and still connect with and help our many clients. In the future, he's looking forward to learning more and moving into more critical positions in the TLC hierarchy.
Before joining the TLC team, Jed worked as the IT & Projects Manager at Krier Technologies. Before starting his career, he earned his Bachelor of Science in Computer Science from Harriot Watt University in London.
Jed enjoys gaming, taking Sunday rides on his motorcycle when not at work, and tending to his fish.
Thanks for taking a few moments to get to know Jed better.