What is the Right Video Chat Software?  Zoom or Microsoft Teams?
Businesses, Schools, and Daycares Are Forced to Shut Down. Many Professionals Have Been Forced to Embrace Remote Work. Let's Take a Look at the Best Video Chat Software for Your Business…
With so many people working from home now, you're probably asking yourself, "what is the difference between all of these video conference programs? And which one is right for my business?"
Let's dive in and review the pros and cons of both Zoom and Microsoft Teams – two top-rated communications software that both deliver the ability to video chat with your employees and people outside of your organization.
I am going to focus on business needs so that we will review enterprise-level video chat rather than personal use. We will analyze how easy the product is to use, some unique features, overall security, and a cost comparison.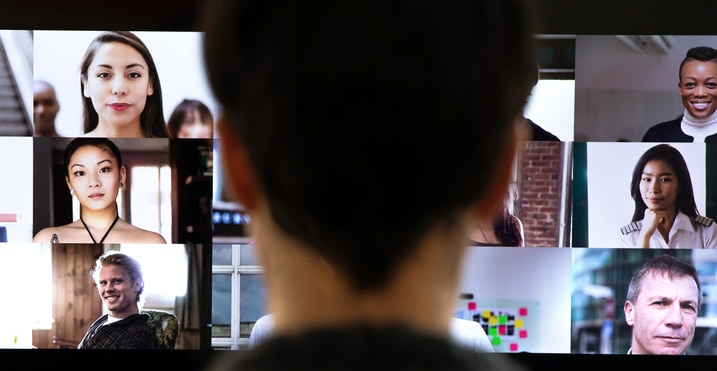 Microsoft Teams or Zoom?
Zoom
Zoom offers organizations a reasonably straightforward way to organize video conferences company-wide, one on one meetings, training, and webinars. Besides, there are several levels of entry, depending on the needs and size of your organization. Zoom can be a great choice because of the amount of third-party software it integrates with, including Microsoft Outlook, Google Calendar, Salesforce, Box, Dropbox, Slack, and many others.
Microsoft Teams
While Zoom offers a multitude of platforms the software can integrate with, Microsoft Teams handles it all on its own. While Teams does have integrations of its own, it can handle most tasks on its own and works exceptionally well if using Microsoft/Office 365. Teams have excellent video conference quality, with Microsoft's purchase of Skype acting as the backbone. However, Teams is much more than a video conference platform. It operates as an intuitive way to maintain communication within the organization.
Zoom or Microsoft Teams…Ease Of Use
Zoom
Personally, Zoom seems daunting at first with a lot of settings to configure meetings, meeting ID's, and lengthy links I would then have to copy and send out. For someone who is not tech-savvy, this can be very intimidating.
After using it a few times, it gets a lot easier to navigate and has some cool features within the video chat that make it stand out. However, in terms of simplicity, I would say this is not the platform's strong point.
For the person you are sending the invite to, it's very straight forward to participate in the video meeting. They receive a link with a calendar invite to have them join a meeting at a specific time, and when they click the link, they either join immediately or are placed in a waiting room to wait for the host to start the meeting.
One nice aspect is that they have a large catalog of different programs they integrate with, allowing your calendar to sync with zoom.
Microsoft Teams
To create a video meeting in Teams, there are a few options to get started.
If you are meeting with someone within your organization, you can simply start a chat with them or go to your existing conversation, hit the video icon in the corner, and it sends the call request over. These meetings are on-demand and can start as simply as a phone call.
The calls can be one on one or with everyone in a group chat.
If you wish to chat with someone outside of the organization, schedule a weekly meeting, or want to talk with someone that doesn't have Teams, you can schedule a meeting with Teams as your meeting location.
This time, instead of going through the chat tab, you will click on the calendar tab, and you will see in the corner "+ New Meeting." Just click there, and it gives you a simple layout for you to invite people – similar to scheduling a meeting through Outlook.
If you are inviting people that do not currently have Teams or are outside of your organization, just place their email in the attendee's box. You will then select date and time, if it is repeating and how often, any notes, then save, and it will send a calendar invite to all of the attendees. For participants without Teams, they can easily participate through a web browser.
The last way you can set up a Teams meeting is through Outlook. There is a Create Teams Meeting icon, which allows you to choose Teams as your meeting location. It's almost identical to how you currently send out meeting invites via Outlook, however when you click on the icon. It sets Teams as your meeting location and automatically adds the required info to your meeting invite.
No copy-paste, entering meeting IDs, or anything like that. Instead, it's just a clean email you can send to everyone that routes you all to the same meeting and makes a calendar invite.
Unique Features In Zoom & Microsoft Teams
Zoom
Up to 50 total participants
Slack Integration
Breakout Rooms
One of my favorite features offered by Zoom is the ability to see up to 49 video streams at once. You might use this if your office has a daily huddle so that you're able to see everyone, and they are all able to see each other.
Seeing all 49 participants end up as tiny boxes, but if you have an office of say 15 or 20 people, it's fun to see everyone together.
Another aspect to note is while Microsoft Teams has many more features in terms of integrations with Office 365, Zoom does integrate with Slack. So, if your company is already using Slack, Zoom may be an easy video chat integration for your organization.
One feature that is exclusive to Zoom is breakout rooms—a feature that allows you to break a large group up into smaller groups for discussion and then bring them back together for a more important meeting.
This can be extremely useful for training people remotely, where you have a large number of participants, but would like them to be able to discuss or work on exercises in a smaller group. The meeting presenter is then able to jump between the breakout groups and listen in or offer more discussion guidance.
Microsoft Teams
Integration with Microsoft 365 environment
Team Channels
Direct Calendar Integration
Microsoft Teams is more than a video chat program. With full Office365 integration, it's easy to share files securely via OneDrive and SharePoint in both chat and teams, and those files feature real-time editing and versioning.
Teams also have a Teams Channel tab, which is like a cross between Slack and Yammer. Channels are sorted by Microsoft Groups and are more like a staff bulletin board for notifications regarding whatever you've designated that group and channel for. A group can have multiple channels—we have an All Staff Group, which has separate channels for general chat, staff meetings, and a lunchtime area for those who want to interact during lunch while they're remote.
Each of these Channels can have their integrations into a particular area of SharePoint, Microsoft Planner, or numerous other available integrations to make Teams into what your team needs it to be.
Additionally, there is a Calendar tab that directly syncs with each user's calendar. Whether you create your meeting invites in Teams or Outlook, the events sync automatically so you can see it on your calendar wherever you are. Also, Teams can see everyone's calendar, which means if you try to schedule a meeting, it will notify you of any conflicts for anyone you've added to the meeting, so long as they are in your organization.
Comparing Zoom & Microsoft Teams Overall Security
Zoom
As I'm sure you may have seen on the news, Zoom has come under scrutiny in the last few months for their security issues. Some of this has happened in the form of "zoombombing," where an uninvited guest can get access to your meeting and disrupt it to the point everyone must leave and set up a new meeting.
The meeting organizer can mitigate some of this. Zoom offers recommendations for meeting configuration. For example, setting a meeting password and requiring attendees to wait in a "lobby" while the meeting organizer admits them to the meeting. Unfortunately, these and other security measures must be manually selected every time a meeting is created, and your security is dependent on the meeting organizer knowing how to configure the settings.
If your organization is using Zoom already or plans to use Zoom in the future, I highly recommend researching all of the settings to prevent hackers. Given all of the lawsuits filed against Zoom, and with large companies like Google banning the software company-wide, I would be hesitant to use this for my organization. I'm sure Zoom will be able to patch this up and get everything secure, but I would rather not be the guinea pig until they do get it right.
Microsoft Teams
Microsoft Teams, on the other hand, has a much higher level of security than Zoom.
Teams will be set up securely within the organization's Microsoft tenancy, meaning your admin will set permissions for who can access your cloud servers. This means that the Teams and Chat features I discussed earlier will only operate within the organization. So, you can't start a chat and share files with anyone outside of the company.
What does this mean for your meetings being sent to others outside of the company? Well, as we discussed earlier, they will be sent a calendar invite and link via email. Even if they don't have a Microsoft account, all they need to do is click the link, and it will create a secure room for only the people that can access those emails. So no "teams bombing" is possible unless it is someone you invited to the meeting that is causing trouble.
Zoom or Microsoft Teams Cost Comparison
Zoom
Zoom has a few different packages available – listed on their website as Basic, Pro, Business, and Enterprise.
The Basic package is free and not recommended because meetings only last 40 minutes.
The Pro package is $14.99 a month per host. Here is where you start being able to get more admin controls, access to add-on's, 1 GB of cloud recording, scheduling, up to 100 participants, and the meeting duration is extended to 24 hrs.
The Business Package is $19.99 a month per host. Here, you will get dedicated phone support, which would be important right now since call centers are already overloaded. You can have up to 300 participants, a custom URL, managed domain, single sign-on support, cloud recording transcripts, and full admin dashboard. I would highly recommend this package over the Pro for the full admin controls alone.
The final package is the Enterprise package, which is going to be for substantial companies over 500 and requires contacting Zoom directly to get accurate pricing.
Microsoft Teams
Microsoft Teams pricing can be a bit confusing because your organization may already be paying for it. It is an added feature for many of the currently available Microsoft Office 365 Licenses.
Microsoft Teams does offer a free trial, so if you are interested in trying it out before purchasing anything, that is an option.
The most common licenses that organizations are paying for that include Microsoft teams are Office 365 Business Essentials and Office 365 Business Premium.
Office 365 Business Essentials (or Microsoft 365 Business Basic as of April 21st) costs $5 a month per user with an annual contract. This package gives you web/mobile versions of Word, Excel, and PowerPoint, which will have slightly fewer features than the full desktop application. Besides, you receive full access to Exchange, OneDrive, SharePoint, and Teams. This package is most useful if you are looking for cloud storage and access to Teams.
Office 365 Business Premium (or Microsoft Business Standard on April 21st) costs $12.50 per user with an annual contract. With this package, you will get the full desktop application for all of the Microsoft Office Suites, along with the cloud access and Teams.
Microsoft Teams or Zoom…Final Thoughts
So, which video chat solution is better for your business? That depends on what your business needs. Some of you may already be paying for Teams and not even know, in which case, I would say use Teams. There is no point in paying for two services if you already have one.
If your company is already adjusted to Slack and moving to Microsoft Teams seems like too daunting of a task, I would say use Zoom and be sure to make your meetings as secure as possible. The free service for Zoom is not secure enough for a business to use, so I highly recommend at least getting their Pro package but more likely the Business package.
If your company already pays for Microsoft licensing but doesn't include Teams, it may only be a few extra dollars a month to add this feature. It should be cheaper than getting the business level Zoom account for everyone.
In my opinion, I would feel safer using Teams due to a significantly lower amount of reported security threats, especially when it comes to having vital discussions about your business over an unsecured line.